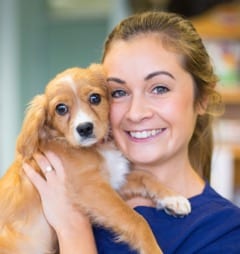 By Karen Kennedy, RVN, PgD Veterinary Physiotherapy, CERT Small Animal Hydrotherapy
Limerick Canine Physiotherapy is now offering appointments at Rockhall Veterinary Clinics, Clare Street, Henry Street, Shannon and Monaleen. For more information check out www.limerickcaninephysiotherapy.ie and www.rockhallveterinary.ie
Physiotherapy has been an essential part of care in the human world for a very long time, and for good reason. In recent years, Veterinary Physiotherapy has become more popular, as more professionals are becoming qualified in the area and the benefits are becoming more widely known to pet owners. Physiotherapy is a science-base complimentary therapy and encompasses a range of techniques, which are hugely beneficial to our pets. Treatment is similar to that in human physiotherapy treatment and includes the use of manual therapy, prescribed exercises and movement therapies and a range of electro therapies. Veterinary physiotherapy treatment is often used as a rehabilitation technique for patients who have sustained injuries and undergone surgical procedures as well as improving the quality of life in older dogs, who often suffer with stiff joints or neurological conditions.
What conditions can be helped by Veterinary Physiotherapy? 
There are many conditions that can be treated using Veterinary Physiotherapy, including: 
Injuries or trauma to muscles, tendons, ligaments or bone

Reduced function, pain and stiffness commonly seen in elderly pets 

Various joint conditions such as hip or elbow dysplasia, cranial cruciate ligament disease, OCD etc. 

Following orthopaedic surgery such as fracture repair, cranial cruciate ligament surgery, femoral head and neck excision, total hip replacement etc. 

Neurological conditions such as intervertebral disc disease (IVDD) and lumbosacral disease

Osteoarthritis 
What happens during my pets Physiotherapy appointment? 
Physiotherapy appointment times range from 30-60 mins and it is usually recommended that you stay with your pet so that they are as relaxed as possible for treatment. 
Using evidence based clinical reasoning and therapeutic handling skills, your pet will receive a full assessment and a treatment plan will be determined. Your pet's treatment will include a combination of a range of manual and electrotherapies, which will be tailored to your pet's needs. Therapies can include massage and mobilisation techniques, myofascial release, LASER, Pulsed Electro Magnetic Therapy, TENS and ultrasound therapy.  A home exercise programme is prescribed for your pet and outcome measures are determined to help monitor their progress. 
Treatment is provided as an adjunct to your pet's veterinary treatment, not a substitute. Communication with your veterinary surgeon is imperative to their treatment. The veterinary surgeon is updated regularly throughout the course of treatment to discuss your pet's progress and recovery.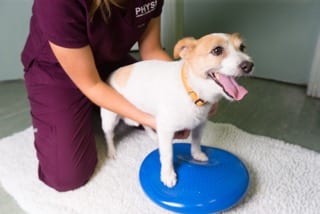 Does your pet need physiotherapy treatment? 
If you feel your pet would benefit from physiotherapy treatment, discuss your options with your Veterinary Surgeon. Qualified Veterinary Physiotherapists generally work under veterinary referral, so your vet can organize referral and advise the best way make an appointment.  
Limerick Canine Physiotherapy is now offering appointments at Rockhall Veterinary Clinics, Clare Street, Henry Street, Shannon and Monaleen. For more information check out www.limerickcaninephysiotherapy.ie and www.rockhallveterinary.ie